Congressman James Comer was on hand to help announce the French Valley Build-Ready site plan.
August 8, 2018
The Russell County Industrial Development Authority announced today its Build-Ready site preparation in the French Valley Business Park. This initiative will make the park very attractive to companies looking for a large industrial site prepared and ready for construction. Build-Ready is a certification awarded by the Kentucky Cabinet of Economic Development and prominently promoted by them to companies looking to locate in Kentucky.
"Having this certification is one more tool in our belt to attract manufacturing to Russell County," said Bennie Garland, RCIDA Executive Director. "We have recently attained Food and Beverage Shovel-Ready Certification, thanks largely to our robust wastewater treatment infrastructure and the ample water supply of Lake Cumberland. Adding a Build-Ready site has proven to be a smart investment for other communities in Kentucky who have done so, and it will increase our location status significantly."
A Build-Ready site allows companies the opportunity to bypass much of the red tape required when establishing a new location by addressing needs and concerns before they arise. This proactive preparation of sites allows for quick decision site selection. Build-Ready certification if proof to a company that unknown obstacles have been removed, that the site due diligence has been performed and the project implementation timeline has been significantly accelerated.
With a Build-Ready site, much of the work, other than actual construction, has already been completed. That includes control of the land to be developed, archaeological, environmental and geotechnical studies performed, construction of a build pad, preliminary design work (complete with project cost and construction timeframes clearly defined), approved site plan permits and necessary infrastructure in place. On a Build-Ready site, construction can begin immediately.
"A good deal of the research necessary for obtaining a Build-Ready certification has already been completed for the Food and Beverage Shovel-Ready Certification, so it only made sense to go for the next step," said Garland
The Build-Ready project was awarded to MSE of Kentucky, Inc, a Lexington engineering firm that has worked on many projects in Russell County and is familiar with the French Valley Business Park. The project is expected to be completed by the end of the year.
"Build-Ready sites are a win-win for both businesses and communities because they provide a method to start operations more quickly, which, in turn, creates local jobs faster," said Garland. "This is an exciting time for future growth and possibilities in manufacturing of the food & beverage industry as well as other manufacturing processes."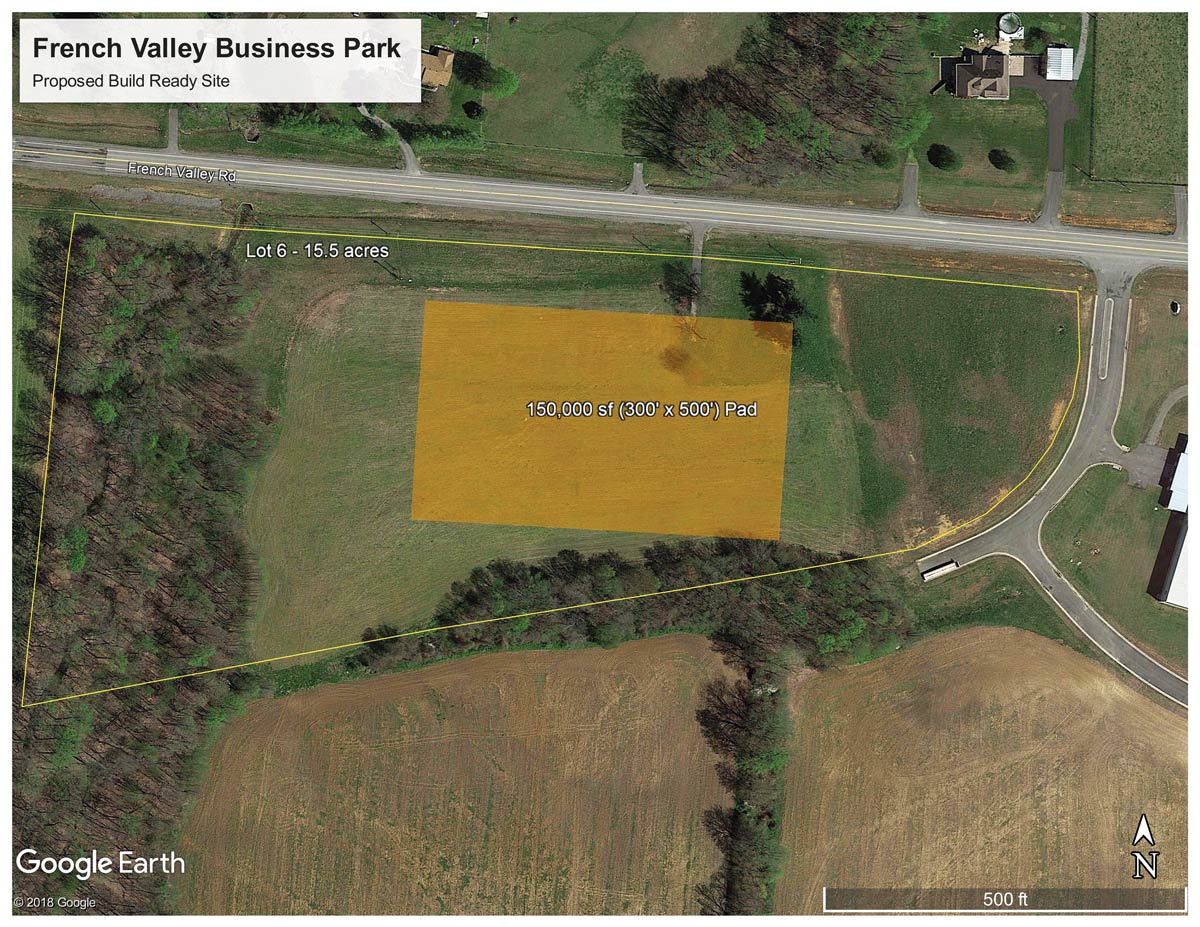 ###
About RCIDA:
The Russell County Industrial Development Authority is set up to streamline the entire process of relocation, expansion or creating a new development in Russell County, Kentucky. RCIDA can help locate available state and local incentives, efficiently channel building permits, provide statistical information, secure quality service accounts and deliver a whole range of other services. The RCIDA Board draws its members from key areas of the county's business and industrial community, with executives representing the areas of finance, public utilities, construction, development, education and business. They have a single purpose: to give your business a foundation for success in Russell County.