Industrial authority will begin recruiting food and beverage processing companies
RUSSELL SPRINGS, Kentucky (February 27, 2017) — Following a months-long analysis by a nationally renowned consulting firm, the Lake Cumberland Regional Industrial Complex Site 1 (formerly French Valley Industrial Park) has been certified as a shovel-ready site for food and beverage processing facilities.
By receiving the Austin Consulting Shovel-Ready Site Designation Award, the Russell County Industrial Development Authority will focus recruitment efforts on the food and beverage industry, a possibility that presented itself when Fruit of the Loom closed its Jamestown factory in 2014 and left the county with excess water and wastewater capacity.
"When Fruit of the Loom closed, we felt the impact on a number of levels," RCIDA Executive Director Bennie Garland said. "And though we are grateful to have Stephens Pipe and Steel as a tenant in that location, we have excess water and wastewater capacity that was built specifically for Fruit of the Loom that needs to be utilized. Recruiting the appropriate industry to our county will hopefully keep us from continuing to pass along utility costs to consumers by raising rates."
Austin Consulting, a division of The Austin Company founded in 1878, is headquartered in Cleveland, Ohio, and provides design-build and location consulting services for commercial and industrial operations. After learning about the shovel-ready designation Austin provides, RCIDA applied for an ARC grant through The Center for Rural Development with matching-fund assistance from South Kentucky RECC to pursue the certification.
Austin Consulting principals performed a detailed field investigation at French Valley — evaluating more than 200 critical variables — and met with city, county and state officials and utility representatives over the course of several months.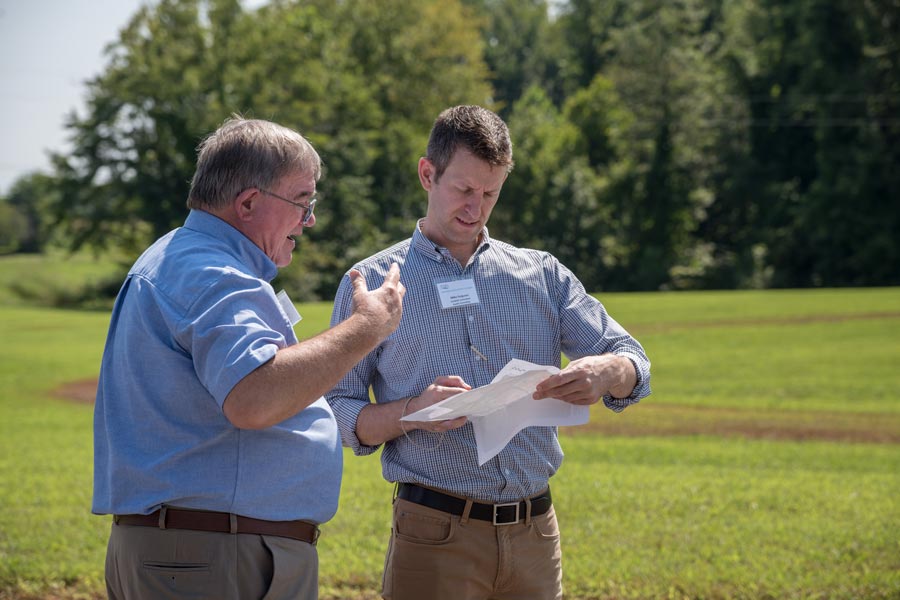 Glen Ross, president at MSE of Kentucky, and Michael Ferguson, location consultant of Austin Consulting, at the Lake Cumberland Regional Industrial Complex Site 1 in Russell County.
The RCIDA was assisted in preparing this certification submittal by their long-time engineering consultant, MSE of Kentucky, Inc. MSE, located in Lexington, has assisted numerous Kentucky communities in preparing their economic development initiatives. The certification arms RCIDA officials with a detailed report that supports the 104-acre Russell Springs park as a suitable food and beverage plant location. The report includes six sections with a series of maps, letters and documentation in the areas of ownership, property, transportation, utility, community and environment — areas that often create roadblocks for companies seeking a new location.
"[This certification] is really going to minimize your risk," Austin Consulting Managing Director Frank Spano said during a meeting with county and state officials in August 2016 at Lake Cumberland State Resort Park. "We feel it is certainly going to benefit you as a community, you as an industrial development authority, locally, regionally and statewide."
John Bevington, deputy commissioner with the Kentucky Cabinet for Economic Development, applauded Russell County officials for looking for ways to bridge the gap created by Fruit of the Loom's departure.
" One of the best moves a region, county or community can make to attract economic development is to take a proactive approach. And earning certifications for existing sites and parks – especially when they pertain to a target industry – stands as a chief method," Bevington said. " A proactive approach should permeate economic development efforts, whether operating as a single agency, in concert with a consulting firm, or in partnership with multiple entities."
Garland said RCIDA board members will travel to Frankfort March 20 to present to state legislators and economic development leaders about the certification and plans to recruit food and beverage companies to Russell County. According to the Cabinet for Economic Development's latest food and beverage facility report, Kentucky is home to 307 such businesses, with a full-time employment of 49,230.
"It's crucial to spread the word about the opportunities available in Russell County and the news that we are now a certified shovel-ready site," Garland said. "We look forward to having conversations that will build our already strong industrial presence." He especially wanted to thank the Russell County Fiscal Court and the city councils of Jamestown and Russell Springs for their invaluable input to accomplish their certification process.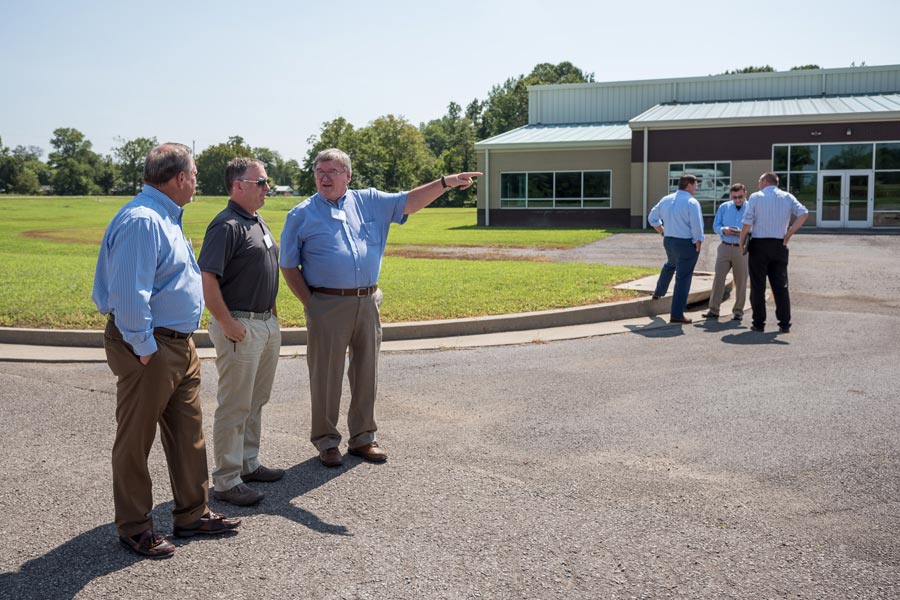 RCIDA board members tour the Lake Cumberland Regional Industrial Complex Site 1 during an early Austin Consulting site visit.